EMTRON New DX-3SP 4000 Watts is out!!
EMTRON All New DX-3SP......4000 Watts output!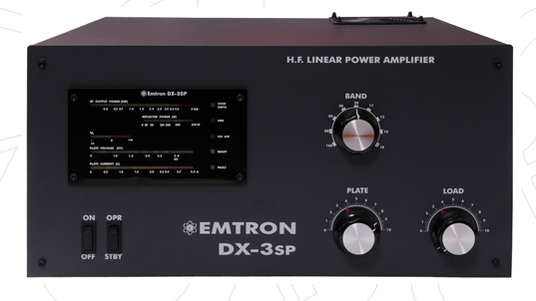 General Description

The "Big Gun" is getting even bigger, with the new DX-3SP! With over 4000 Watts CW and more then 4500 Watts SSB, this QRO muscle amp is not a joke! It is an amplifier with gravitas capable of satisfying the serious and most fastidious station operator. All specifications and features, except output power, are the same all throughout the Emtron amplifier product range, and the DX-3SP comes complete with QSK module as standard. The design deploys two durable FU-728F tubes (improved Chinese mil-version of the 4CX1500B) in parallel, with a total plate dissipation of 3000 Watts, comfortably delivering the expected output power and durability. These robust FU728F tubes are manufactured in present production and are available directly from the manufacturer, or from Emtron, exclusively for Emtron amplifier owners. We believe that this new DX-3SP is physically the smallest 4000 Watt desktop RF amplifier on the market today, and the most popular as well.

Please note: This new DX-3SP comes with two FU-728B tubes, which are directly interchangeable with Eimac 4CX1500B tubes! Only the filament tap on the transformer must be changed from 9 volt to 6 volt, if Eimac tubes are used!

The DX-3SP operates at voltages of 200 to 240 AC at approx. 35 Amps. A 400 Volt two-phase transformer is also available!!!

Weight: 50 Kg (110 lb), shipped in two separate boxes, transformer and RF deck.

Dimension: 470w x 230h x 470d mm , (18.5" w x 9" h x 18.5" d ) for RF deck.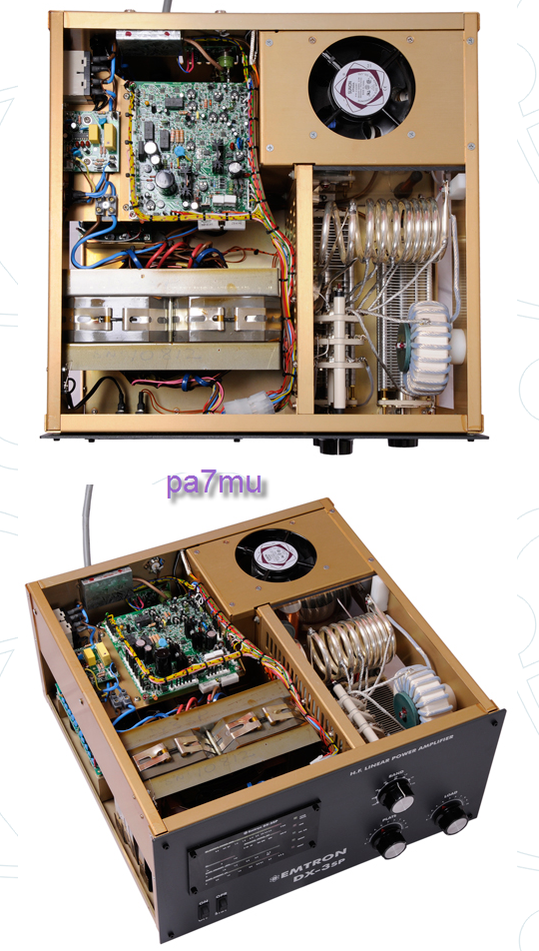 Specifications:

Band Coverage
The Emtron DX-3 covers all nine amateur bands from 160 through 10 meters including WARC bands at full power. It utilizes a ceramic high quality 9-position band switch, separate individual position for each band. No band compromises like on many other amplifiers on the market. The LOAD and PLATE tuning employ 6:1 vernier reduction drives for precise silky smooth tuning.

Modes of Operation
The Emtron DX-3SP has been designed and built to operate in any mode such as: SSB, CW, AM, FM, RTTY and SSTV, as well as any other digital mode. QSK module included.

Output Power
This amplifier will comfortably deliver 4000 Watts (4500 Watts PEP) continuous carrier ("key down") into your antenna. The conservative rating of the tubes, the tank and all other components, and the efficient cooling system allows effective operation at this power level.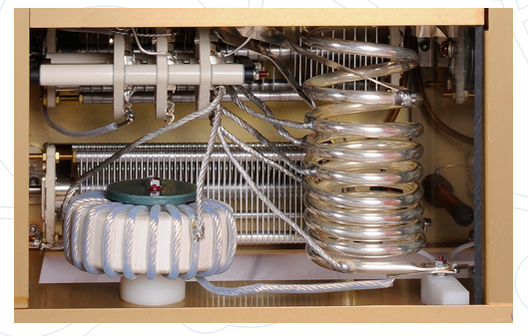 Tube Protection
The Emtron DX-3 operates with one GU-78 tube, in Class AB1 with a plate dissipation of 3000 watts. Constructed primarily for military communication, this tube is physically and electrically exceptional rugged and with additional sophisticated protection circuitry incorporated, the DX-3 is almost indestructible. The GU-78 tube is a compact high slope (35mA/V tetrode) and when operated under normal conditions, will last a very long time.

Tube Protection
The Emtron DX-3SP operating in class AB1 has a very sophisticated tube protection circuitry, designed to protect excessive plate current, screen grid current, screen grid voltage, control grid bias voltage, exciter overdrive, SWR, etc. The tube is also protected from excessive temperature by continuously monitoring the required airflow exhaust temperature. In case of any fault, the amplifier is automatically cut off to bypass mode. A 25 ohm, 50 watt resistor in the high voltage B+ circuit and MOV devices in the screen circuit further protects the tube and the power supply from a possible tube internal flash-over.

Cooling
A lot of attention was given to the design of the DX-3SP's cooling system. A pressurized forced air cooling was achieved with a rugged temperature controlled 2-speed 72 CFM blower (turbine) which effectively cools all critical components of the amplifier. The blower is positioned in such a way that it prevents hot air being re-circulated through the system. Also one additional axial sucking fan is placed just above the tubes, to further improve the cooling efficiency.

Drive Power
In order to achieve full output power, an input power of approximately 30 to 60 Watts is required. If your transceiver delivers more output power, reduce the drive level. Specially when operating RTTY or any other continuous mode, reduce the drive level and let your transceiver run "COOL" with less strain on its output PA components. The EMTRON DX-3SP is comfortable with all popular transceivers such as KENWOOD, ICOM, YAESU, JRC, TENTEC, etc.

Overdrive Control Circuit
A unique feature in all Emtron amplifiers is the overdrive control circuitry. It is virtually impossible to produce a broad distorted splatter signal in a Emtron amplifier. This "Overdrive Control Circuit or "OCC", senses any slight overdrive (less than 50 micro-amps of grid current and departure from linear AB1 operation), a LED warns you, and if you don't do anything about it, the amplifier will bypass itself for 2 seconds. The 2 second bypass is then repeated until the drive level is being reduced. There are only two cables required to connect the transceiver to the amplifier, the RF and PTT cables. For better performance, linearity and clean signal we prefer OCC to ALC.

Power Supply
The power supply of the EMTRON DX-3SP is also unique. It contains a "SOFT START INRUSH PROTECTION", a top grade heavy duty transformer, a full bridge rectifier and eight high voltage filter capacitors of 470 uF/500 volt rating. This gives a total capacitance in the high voltage section of 58 uF and a conservative voltage rating of 4000 volts DC. The soft start inrush protection circuit, standard in all Emtron amplifiers is another unique design found in no other amplifier so far. It is the best soft start system available today. The phase controlled 40 Amp TRIAC will turn on the amplifier using a 3-second gradual ramp-up function. The electrolytic capacitors are charged little by little and linearly over the 3 second period. This also affects all other circuit components in a similar manner including the tube filaments which come up gracefully without large inrush current when cold. Stress in components, failure and "TRANSFORMER BONG" and deleterious current surges are nonexistent in EMTRON amplifiers. The screen greed power supply is fully voltage regulated for +ve and –ve screen currents, combined with very effective current limiting, not only totally protects the tube, but also due to its wide dynamic range, keeps the tube static operating parameters absolutely stable. The protection against excessive screen current is so good, that we have tested the operation with full screen voltage, while the plate voltage was absent, for extended time, without damage to the tube. Needless to say that there is quite a lot of sophisticated electronics present in all Emtron amplifiers and quietly working behind the scenes to protect your amplifier investment!

Controller Board
The most important module, containing most of the above unique circuitry is the "controller board", which is connected to all the other parts of the amplifier via a wiring loom harness. This board contains: the screen grid supply with voltage regulator and current limiting, the regulated control grid bias supply, QSK power supply, the 12VDC power supply, the overdrive / OCC, SWR, temperature control, EBS, plate over current protection, amp bypass switching, etc.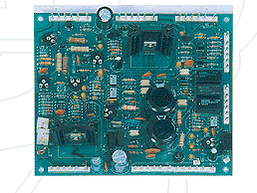 Display
All important parameters such as plate current Ip, plate voltage Ep, RF output power, reflected power, screen grid current, SWR, overdrive, ready, transmit and fault information is displayed on a sophisticated solid state display panel utilizing LEDs of different colours. No switching of any parameter is required. We have chosen this sophisticated and advanced system in preference to conventional moving coil meters even though this system is about three times more expensive than the conventional analog meters used by many other amplifier manufacturers. When tuning or operating the DX-3 amplifier all the key parameters are displayed instantaneously so that amplifier health can be easily monitored at a single glance.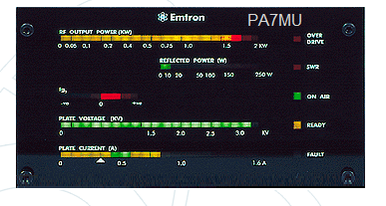 Components
Only the very best components with no compromise are used in EMTRON DX-3SP amplifier. All RF components such as band switch, tank coils, chokes, etc. are of high quality silver plating, ceramic bobbin core for lower frequencies is also used.

Finish
The finish is of high quality durable baked enamel texture paint and silk screening of a quality not found on any other similar equipment. The strong and rigid chassis is made of high grade 2mm dark yellow chromate coating, and the front panel is made of 3mm high grade aluminium.

Warranty
FOUR YEARS full warranty covers all parts and labour, and limited warranty on the tubes.

FACTORY DIRECT SALES AND SERVICE
The EMTRON DX-3SP is sold factory direct; no "middle man" mark up, you do business directly with the designers and producers; with skilled people who know the heart and soul of the DX-3SP, and will always be able to give you expert technical advice and after sales service.

So consider the biggest bargain in top brand 4 KW CW output linear amplifiers. The Emtron DX-3SP is the most technically advanced RF linear amplifier operating on all HF amateur radio bands, developed with quality, reliability, performance and price in mind. The DX-3SP model was especially developed by EMTRON for those discerning HAM operators who demand only the best. This tough power house will handle all the rigour and demands of contest, DX-ing and high duty cycle emissions.

EMTRON products see http://www.emtron.com.au/products/dx3sp.php .

the old one on video: DX-3